Book Donation Center
Donate your books and media to Friends!  Each year we receive nearly a million donated books, which we in turn resell to the public through our bookstores and book sales.  Your donation is tax-deductible and helps to provide critical support to the San Francisco Public Library.
NEW Address: 1630 17th Street
Expanded Drop Off Hours!
Monday through Friday: 10 am – 4 pm
Saturday: still 10 am – 2 pm
Phone: (415) 522-8600
Upcoming Closures: Please note that the Donation Center will be closed on Friday, March 25th and Monday, March 28th. We apologize for any inconvienence this may cause. 

BOOK DONATION INQUIRIES
For inquiries about your donation, please get in touch with Richie Thomas, Donation Center Manager at:
(415) 522-8606 or richie.thomas@friendssfpl.org.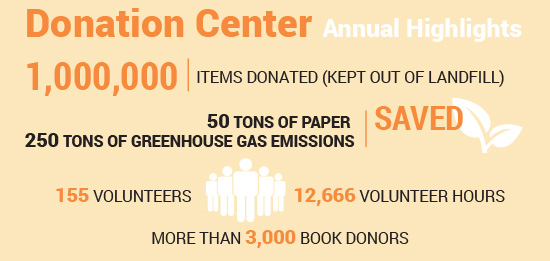 WHAT WE ACCEPT:
In addition to books, we accept donations of media and assorted printed material, including:
Audio CDs
LPs (except classical, opera and showtunes)
Books on CD and tape
DVDs, Blu-ray discs
Computer software and console games
Text books
Graphic Novels-Comic Books
WHAT WE DO NOT ACCEPT:
Books that are damp or moldy
General encyclopedias (World Book, Britannica, etc.)
Legal statutes and casebooks
Magazines (SCRAP SF takes donations of National Geographic)
Loose CDs, DVDs, etc. without their cases
Home-recorded (aka burned) CDs, DVDs, etc.
VHS tapes
For a complete list of items that we are not currently accepting at this time, please see below.
Please contact us before dropping off several (more than 20) copies of the same book.
All donations are tax-deductible.
WHAT SELLS:​
Art (especially Art Technique)San Francisco & California history
Graphic Novels
Ancient History
Math
Rock, Jazz and Blues LPs
Mythology
New Age / Occult
Music history, biography and criticism
Philosophy
Eastern Religion
Travel Guides from the past four years
WHAT HAPPENS TO MY BOOKS WHEN I DONATE THEM?
Each year we receive nearly half a million donated books, which we in turn resell to the public through two bookstores and a number of book sales – including the Big Book Sale, the largest book sale on the west coast. All profits benefit the San Francisco Public Library and many books are donated to schools and other non-profit organizations. Notable books are offered to the special collections of the San Francisco Public Library.
Complete list of  items we are not currently accepting:
Books with significant underlining, highlighting, or notes
Books that are must, moldy or mildwewed
Books that smell of tobacco
78 rpm records
CDs or DVDs without cases
Classical, Opera, or Show Tune LPs
VHS tapes
Audio Cassettes
Home-recorded (burned) or pirated CDs or DVDs
Posters and framed artwork
General encyclopedias (Britannica, World Book, etc.)
Legal statues, casebooks, and similar law library materials
Ex-library teen and children's books
High school text books
Book Club Editions
Individual sheet music
Libretti
Travel guides more than 5 years old
Computer books published between 1990 and 2005
Tax preparation guidebooks
Test preparation guides
Books published by the Heritage Press
Books published by Readers Digest or Bottom Line
Book published by Rodale Inc.
Hardbound American Heritage
The Compact OED (two larger volumes in slipcase with magnifying glass)
The Will and Ariel Durant Series
The Harvard Classics
Hardbound Horizon Magazine
Large dictionaries 
Magazines
MHQ (Military Historic Quarterly)
Romance novels
The Great Books of the Western World series
Any Time-Life series
Zagat guides
AAA guidebooks
Cliffs Notes
Thank you for supporting Friends!